Home » About
About
Your Daily Inspiration is intended for myself to be an exercise in biblical-text-association. By allowing a bible text given in the liturgy to interact with my memory of other liturgies attended and of other bible passages studied, I try to see how it resonates with the passages I know and with the passages that have begun to make sense in my life. It is my hypothesis that the interaction would confirm previous knowledge and create a ready store of "bible-links" in my memory that would help me understand other passages. It would also give me a more robust store of scriptural knowledge that would help me explain the Scriptures as part of the ministry entrusted to me. I explain this "association-thing" in this article from Otium Sanctum
The website runs on WordPress clothed in a skin by MJ Hutagalung. It runs with several plugins, the most important of which is the Catholic Reference Extension plugin made by PurePistos. The plugin creates tooltip links to any Scripture or Catechism reference I make in a post; when one runs the mouse over these links, a box with the text of the Bible or Catechism appears. This way, I don't really have to copy chunks of Scriptures in my site; a verse reference is enough.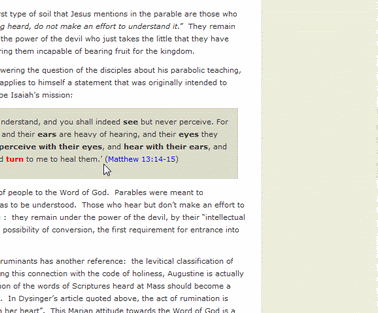 Your Daily Inspiration is associated with three other sites for the Biblical apostolate.
Res Biblica which is the AgustinongPinoy site for the Scriptures. It provides articles that explain the Sunday gospels and other bible selections.
The Bible Workshop provides help for Basic Ecclesial Cell Group leaders for the bible ministry in the grassroots.
The Mystical Geek is a friar's journal and logbook for the things he does and the discoveries he makes
More features and content will be added soon. We will try to make your every visit inspiring as well as intellectually satisfying.
Popularity: 3% [?]