Home » Articles
Readings for August 22-27 2011
For this week the 21st Week of Ordinary Time Year 1, our lectio cursiva will continue with Paul's first letter to the Thessalonians. The Gospel readings from Matthew begins with Jesus' denunciation of the scribes and Pharisees (Monday and Tuesday), the parable of the wise and faithful steward (Thursday), the parable of the ten virgins (Friday) and the parable of the talents (Saturday). The memorials of the Queenship of Mary and of St. Monica will not be disturbing the lectionary's daily offerings. But the feast of St. Bartholomew which falls this year on Wednesday will call our attention to the sanctoral readings for that day.
Monday, August 22 2011
Today we celebrate the memorial of the Queenship of Mary.
The twenty-first week of Ordinary Time (Year I) begins with a reading of Paul's first letter to the Thessalonians. Today, we read the beginning of the letter, the address (1) and Paul's "captatio" where he tells the Thessalonians how he and his companions remember them in his prayers. In verses 2-10, Paul actually gives us, his readers, an idea of how the Thessalonians were at the time when he wrote the letter. The life of the community of faith manifests how they have received the gospel proclaimed by Paul and how they are making it grow. They have a faith that is alive — it is shown in the industry of their love and their active hope (3).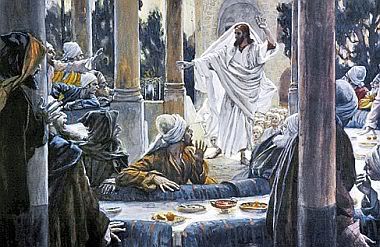 The gospel reading continues Jesus' denunciation of the scribes and Pharisees — they who have succeeded Moses as teachers (Matthew 23:2). Today and tomorrow we will be reading vv. 13-26, but the denunciation actually continues until v. 38 with the concluding lament on Jerusalem (vv. 37-38). The denunciation is marked by the statements beginning with "Woe" (13.15.23.25. 27. 29) interspersed with Jesus' naming them "frauds" (14. 15. 23. 25. 27. 29) and "blind" (16. 17. 19. 24). Jesus' denunciation reaches a crescendo when he calls the Pharisees and scribes "Brood of vipers" and "vipers' net", associating them with the Great Serpent, the Devil (see v. 33)
Tuesday, August 23, 2011
The selection from 1 Thessalonians 2:1-8 is — for readers of the 21st century — a biographical sketch of Paul at the time when he first came to the Thessalonians. He and Silas had been imprisoned in Philippi (Acts 16:24) but were released shortly after an earthquake that they survived (vv. 25-40). This was the "humiliation" he experienced in Philippi. From there he went to Thessalonica where, again, he met with opposition although he did make conversions (Act. 17:1-8). Those Jews and Greeks "sympathetic to Judaism" and "numerous prominent women" who "threw in their lot with Paul and Silas" (v. 4) were the ones who are now being addressed by Paul.
The gospel selection continues the denunciation of the scribes and Pharisees whose external religiosity has made them forget the more important aspects of the Law: justice, mercy and fidelity. Their religiosity is external; they cleanse the outside but forget what is more important, the inner qualities of authentic Mosaic observance.
Wednesday, August 24, 2011
Today we celebrate the Feast of St. Bartholomew a.k.a. Nathanael. Read the article: Feast of St. Bartholomew
Thursday, August 25 2011
We jump to the conclusion of Paul's thanksgiving for the Thessalonians. Immediately preceding the selection is Paul's recollection of Timothy's report about the Thessalonians and how much they desire that Paul visit them (1 Thessalonians 3:6-7). And so Paul, giving a hint of an intended visit (v. 10-11), expresses his wish that the Thessalonians continue to grow in faith and love until the coming of the Lord (11-13).
Matthew 24:42-51 is the ethical consequence of the coming Day of the Lord (24:1-41). "Stay awake" (v. 42) — this is the characteristic lifestyle of disciples who, as faithful servants, wait for the Coming of the Lord. Notice that Jesus does not tell his disciples to run for cover. He tells them instead to stay in the work entrusted to them. The faithful and wise steward is the one whom his Lord will find doing the job entrusted to him.
Friday, August 26 2011
1 Thessalonians 4:1-8 is the beginning of the moral section of Paul's letter. The Thessalonians are to keep the instructions given by the apostle. The word "sanctification" appears in vv. 3 and 7. It is the word that describes the vocation of Christians. Today, we call this the common vocation to holiness. God alone is "holy", but those whom He has associated to be with Him in His household — such as the Thessalonians — are also called to become holy, to become "sanctus". The last phrase (v. 8) is a warning: Therefore, whoever disregards this, disregards not a human being but God, who also gives his Holy Spirit to you".
Matthew 25:1-13 is the parable about ten virgins, five wise and five foolish. The mention of the lamp that needs to be kept lighted until the coming of the Lord is associated with the candles that are lighted in baptism.
Saturday, August 27 2011
Today we commemorate St. Monica, the mother of St. Augustine of Hippo.
1 Thessalonians 4:9 may sound strange for those who think that something as sublime as love can only be learned from Scriptures. The fact is that God has written His law in the hearts of men even before He had His law written on tablets of stone. Paul refers to this interior "book", written in the hearts of men. The Catechism of the Catholic Church identifies this with conscience. One characteristic therefore of the Thessalonian community is their warmth and love for the brothers. But Paul continues to encourage them to do better — "to progress even more". The Christian life does not give room for complacency. It is like going up a mountain — one cannot stop and risk to fall down. One must go on until one reaches the top of the mountain.
Matthew 25:14-30 is Jesus' parable of the talents and continues the lessons from the wise and faithful steward and the wise virgins. The servants of the Lord no matter how many talents they have received as trust should cultivate them and make them yield fruits. The servant who hides the talent and does not invest it will lose even the little he has.
2
Saying: The scribes and the Pharisees have sitten on the chair of Moses.
1
For yourselves know, brethren, our entrance in unto you, that it was not in vain:
2
But having suffered many things before, and been shamefully treated (as you know) at Philippi, we had confidence in our God, to speak unto you the gospel of God in much carefulness.
3
For our exhortation was not of error, nor of uncleanness, nor in deceit:
4
But as we were approved by God that the gospel should be committed to us: even so we speak, not as pleasing men, but God, who proveth our hearts.
5
For neither have we used, at any time, the speech of flattery, as you know; nor taken an occasion of covetousness, God is witness:
6
Nor sought we glory of men, neither of you, nor of others.
7
Whereas we might have been burdensome to you, as the apostles of Christ: but we became little ones in the midst of you, as if a nurse should cherish her children:
8
So desirous of you, we would gladly impart unto you not only the gospel of God, but also our own souls: because you were become most dear unto us.
24
Who having received such a charge, thrust them into the inner prison, and made their feet fast in the stocks.
6
But now when Timothy came to us from you, and related to us your faith and charity, and that you have a good remembrance of us always, desiring to see us as we also to see you;
7
Therefore we were comforted, brethren, in you, in all our necessity and tribulation, by your faith,
42
Watch ye therefore, because ye know not what hour your Lord will come.
43
But know this ye, that if the goodman of the house knew at what hour the thief would come, he would certainly watch, and would not suffer his house to be broken open.
44
Wherefore be you also ready, because at what hour you know not the Son of man will come.
45
Who, thinkest thou, is a faithful and wise servant, whom his lord hath appointed over his family, to give them meat in season.
46
Blessed is that servant, whom when his lord shall come he shall find so doing.
47
Amen I say to you, he shall place him over all his goods.
48
But if that evil servant shall say in his heart: My lord is long a coming:
49
And shall begin to strike his fellow servants, and shall eat and drink with drunkards:
50
The lord of that servant shall come in a day that he hopeth not, and at an hour that he knoweth not:
51
And shall separate him, and appoint his portion with the hypocrites. There shall be weeping and gnashing of teeth.
1
For the rest therefore, brethren, we pray and beseech you in the Lord Jesus, that as you have received from us, how you ought to walk, and to please God, so also you would walk, that you may abound the more.
2
For you know what precepts I have given to you by the Lord Jesus.
3
For this is the will of God, your sanctification; that you should abstain from fornication;
4
That every one of you should know how to possess his vessel in sanctification and honour:
5
Not in the passion of lust, like the Gentiles that know not God:
6
And that no man overreach, nor circumvent his brother in business: because the Lord is the avenger of all these things, as we have told you before, and have testified.
7
For God hath not called us unto uncleanness, but unto sanctification.
8
Therefore, he that despiseth these things, despiseth not man, but God, who also hath given his holy Spirit in us.
1
Then shall the kingdom of heaven be like to ten virgins, who taking their lamps went out to meet the bridegroom and the bride.
2
And five of them were foolish, and five wise.
3
But the five foolish, having taken their lamps, did not take oil with them:
4
But the wise took oil in their vessels with the lamps.
5
And the bridegroom tarrying, they all slumbered and slept.
6
And at midnight there was a cry made: Behold the bridegroom cometh, go ye forth to meet him.
7
Then all those virgins arose and trimmed their lamps.
8
And the foolish said to the wise: Give us of your oil, for our lamps are gone out.
9
The wise answered, saying: Lest perhaps there be not enough for us and for you, go ye rather to them that sell, and buy for yourselves.
10
Now whilst they went to buy, the bridegroom came: and they that were ready, went in with him to the marriage, and the door was shut.
11
But at last come also the other virgins, saying: Lord, Lord, open to us.
12
But he answering said: Amen I say to you, I know you not.
13
Watch ye therefore, because you know not the day nor the hour.
9
But as touching the charity of brotherhood, we have no need to write to you: for yourselves have learned of God to love one another.
14
For even as a man going into a far country, called his servants, and delivered to them his goods;
15
And to one he gave five talents, and to another two, and to another one, to every one according to his proper ability: and immediately he took his journey.
16
And he that had received the five talents, went his way, and traded with the same, and gained other five.
17
And in like manner he that had received the two, gained other two.
18
But he that had received the one, going his way digged into the earth, and hid his lord's money.
19
But after a long time the lord of those servants came, and reckoned with them.
20
And he that had received the five talents coming, brought other five talents, saying: Lord, thou didst deliver to me five talents, behold I have gained other five over and above.
21
His lord said to him: Well done, good and faithful servant, because thou hast been faithful over a few things, I will place thee over many things: enter thou into the joy of thy lord.
22
And he also that had received the two talents came and said: Lord, thou deliveredst two talents to me: behold I have gained other two.
23
His lord said to him: Well done, good and faithful servant: because thou hast been faithful over a few things, I will place thee over many things: enter thou into the joy of thy lord.
24
But he that had received the one talent, came and said: Lord, I know that thou art a hard man; thou reapest where thou hast not sown, and gatherest where thou hast not strewed.
25
And being afraid I went and hid thy talent in the earth: behold here thou hast that which is thine.
26
And his lord answering, said to him: Wicked and slothful servant, thou knewest that I reap where I sow not, and gather where I have not strewed:
27
Thou oughtest therefore to have committed my money to the bankers, and at my coming I should have received my own with usury.
28
Take ye away therefore the talent from him, and give it to him that hath ten talents.
29
For to every one that hath shall be given, and he shall abound: but from him that hath not, that also which he seemeth to have shall be taken away.
30
And the unprofitable servant cast ye out into the exterior darkness. There shall be weeping and gnashing of teeth.
Popularity: 5% [?]