Home » Daily Gospel, Daily Readings, History, Old Testament, Video
Ruth and Hesed
Adobe Flash Plugin is required to see this video. Click
here
to download the latest version of Adobe Flash Player Plugin.
Today's Readings
Reading I: 

Ruth 1:1-22

(passim)
Responsorial Psalm:  Psalm 146
Gospel Reading:

Matthew 22:34-40
The Story of Ruth
  We read the book of Ruth today and tomorrow. The book became important because of the final genealogy which connects the son of Ruth and Boaz, Obed, to King David. But apart from that it is also the story of how a Moabitess becomes part of the family of Israel. Matthew remembers Ruth and Boaz in his genealogy of Jesus Christ, the Messiah.
The book of Ruth is a story about "hesed" — a Hebrew word which means a lot of things. It can mean, loyalty, fidelity, generosity. It is most often translated as "grace" or "favor". Ruth shows "hesed" in her loyalty to Naomi, her mother-in-law, and by submitting herself to the levirate law. Boaz shows "hesed" to Ruth and to Naomi by undertaking the role of Go'el even to the point of transacting for it. Both are instrumental for turning Naomi's bitterness into "sweetness".
Today, we read the introduction to the story. Naomi loses her sons and husband and returns to Judah embittered. Her daughter-in-law Ruth accompanies her inspite of Naomi's protests. Two widows living together is not really ideal. The focus of the selection is Ruth's declaration of fidelity: "Wherever you go I shall go; wherever you live there I shall live; your people will be my people, your God will be my God too.
Read this brief article on the Book of Ruth Suite 101: Sampling the Story of Ruth The article can be outlined as follows: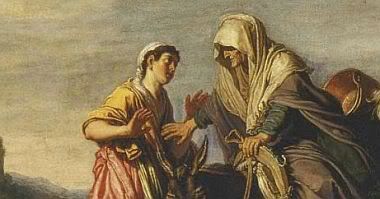 An Outline/Summary of the Book of Ruth
Discussion of Customs that are Strange To Us

Concern for Progeny and Land
The Role of the Go'el
Levirate Law
The article was written describing the book of Ruth as a sample of biblical narrative.
The Greatest Commandment
The Gospel selection is on the two-commandments of love.  The Catechism of the Catholic Church gives us two important paragraphs on the theme:
2055 When someone asks him, "Which commandment in the Law is the greatest?" Jesus replies:

"You shall love the Lord your God with all your heart, and with all your soul, and with all your mind. This is the greatest and first commandment. And a second is like it: You shall love your neighbor as yourself. On these two commandments hang all the Law and the prophets." The Decalogue must be interpreted in light of this twofold yet single commandment of love, the fullness of the Law:

The commandments: "You shall not commit adultery, You shall not kill, You shall not steal, You shall not covet," and any other commandment, are summed up in this sentence: "You shall love your neighbor as yourself." Love does no wrong to a neighbor; therefore love is the fulfilling of the law.

1889 Without the help of grace, men would not know how "to discern the often narrow path between the cowardice which gives in to evil, and the violence which under the illusion of fighting evil only makes it worse." This is the path of charity, that is, of the love of God and of neighbor. Charity is the greatest social commandment. It respects others and their rights. It requires the practice of justice, and it alone makes us capable of it. Charity inspires a life of self-giving: "Whoever seeks to gain his life will lose it, but whoever loses his life will preserve it."
1
In the days of one of the judges, when the judges ruled, there came a famine in the land. And a certain man of Bethlehem Juda, went to sojourn in the land of Moab with his wife and his two sons.
2
He was named Elimelech, and his wife, Noemi: and his two sons, the one Mahalon, and the other Chelion, Ephrathites of Bethlehem Juda. And entering into the country of Moab, they abode there.
3
And Elimelech the husband of Noemi died: and she remained with her sons.
4
And they took wives of the women of Moab, of which one was called Orpha, and the other Ruth. And they dwelt there ten years.
5
And they both died, to wit, Mahalon and Chelion: and the woman was left alone, having lost both her sons and her husband.
6
And she arose to go from the land of Moab to her own country with both her daughters in law: for she had heard that the Lord had looked upon his people, and had given them food.
7
Wherefore she went forth out of the place of her sojournment, with both her daughters in law: and being now in the way to return into the land of Juda,
8
She said to them: Go ye home to your mothers: the Lord deal mercifully with you, as you have dealt with the dead and with me.
9
May he grant you to find rest in the houses of the husbands which you shall take. And she kissed them. And they lifted up their voice and began to weep,
10
And to say: We will go on with thee to thy people.
11
But she answered them: Return, my daughters: why come ye with me? have I any more sons in my womb, that you may hope for husbands of me?
12
Return again, my daughters, and go your ways: for I am now spent with age, and not fit for wedlock. Although I might conceive this night, and bear children,
13
If you would wait till they were grown up, and come to man's estate, you would be old women before you marry. Do not so, my daughters, I beseech you: for I am grieved the more for your distress, and the hand of the Lord is gone out against me.
14
And they lifted up their voice, and began to weep again: Orpha kissed her mother in law and returned: Ruth stuck close to her mother in law.
15
And Noemi said to her: Behold thy kinswoman is returned to her people, and to her gods, go thou with her.
16
She answered: Be not against me, to desire that I should leave thee and depart: for whithersoever thou shalt go, I will go: and where thou shalt dwell, I also will dwell. Thy people shall be my people, and thy God my God.
17
The land that shall receive thee dying, in the same will I die: and there will I be buried. The Lord do so and so to me, and add more also, if aught but death part me and thee.
18
Then Noemi, seeing that Ruth was steadfastly determined to go with her, would not be against it, nor persuade her any more to return to her friends:
19
So they went together and came to Bethlehem. And when they were come into the city, the report was quickly spread among all: and the women said: This is that Noemi.
20
But she said to them: Call me not Noemi, (that is, beautiful,) but call me Mara, (that is, bitter,) for the Almighty hath quite filled me with bitterness.
21
I went out full, and the Lord hath brought me back empty. Why then do you call me Noemi, whom the Lord hath humbled and the Almighty hath afflicted?
22
So Noemi came with Ruth the Moabitess her daughter in law, from the land of her sojournment: and returned into Bethlehem, in the beginning of the barley harvest.
34
But the Pharisees hearing that he had silenced the Sadducees, came together:
35
And one of them, a doctor of the law, asking him, tempting him:
36
Master, which is the greatest commandment in the law?
37
Jesus said to him: Thou shalt love the Lord thy God with thy whole heart, and with thy whole soul, and with thy whole mind.
38
This is the greatest and the first commandment.
39
And the second is like to this: Thou shalt love thy neighbor as thyself.
40
On these two commandments dependeth the whole law and the prophets.
Popularity: 5% [?]