Home » Daily Gospel, Daily Readings, Old Testament
The Meribah Incident (Numbers 20)
Today's Readings
Reading I: 

Numbers 20:1-13

Responsorial Psalm: Psalm 95
Gospel Reading:

Matthew 16:13-23
The Meribah incident echoes the one in Exodus 17:1-7 where the people were made to drink from the waters that came out of a Rock. We are informed that the place was called the place of testing (Massah) and of contention (Meribah). In the oral traditions, the place could have been confused. The first occurence of waters from the Rock occurs at Rephidim. In Numbers 20, the Israelites find themselves in Kadesh where they have just buried Miriam. Here again we hear the Israelites grumble about the lack of water. Once more, they contend (wayyareb) with Moses and Aaron (v.3). And once more, the Lord instructs Moses about the Rock to make it give forth water. In Exodus 17:6, Yahweh tells Moses to strike the Rock with his rod. Here, he tells Moses simply to address the Rock. Moses, however, thinking that this was the same case as at Massah, struck the Rock twice. Water does gush forth, but Yahweh has been slighted. Moses did not obey.
We have already noted that in the book of Numbers, the stature of Moses grows. As the people continue to grumble the role of Moses as the Lord's prophet and designated leader of the people is highlighted. Perhaps Moses' growing authority before God and the people has gone into his head and for this reason he — by striking the Rock — showboated before Israel? Or perhaps Moses made a mistake by thinking that this was the same as before, and so he acted the way he did the first time? But the Lord wanted a new action, and this Moses did not obey.
Moses' action that day cost him his place in the Promised Land because he failed to show forth the glory of the Lord.
Peter and the Keys
The Gospel selection from Matthew 16:13-23 can be divided into two parts: (a)13-20 about the Peter and the Keys, and (b) 21-23, the cross of discipleship and Peter's misunderstanding of Jesus' Messiahship.
We have uploaded the podcast (in Filipino) about Peter's mission as Rock. You may listen to it below.
Inspite of Peter's correct knowledge of Jesus' identity, he however fails to understand Jesus' Messiahship. He does not understand that His Messiahship is that of the Servant, and the way to His glory is through the Cross.
St. Jean-Marie Vianney on the Web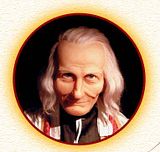 Popularity: 5% [?]