Home » Daily Readings, New Testament Writers
Ready for Battle
Reading I:

Ephesians 6:10-20

Resp. Psalm: 

Psalm 144:1,9-10

Gospel Reading: 

Luke 13:31-35
Ephesians 6:10-20 is one of those passages we are reminded in the rite of confirmation when the bishop tells us that by the sacrament, we are being transformed into soldiers for Christ.  Even the slight slap on the cheek that is given to the confirmandi is a Roman general's gesture when accepting new recruits.  After Paul tells the Ephesians to practise the life style of a Christian within the household, he gives them a final admonition regarding the struggle in which they are engaged:  a battle against spiritual forces that wish the gospel to be quelched and cease from sounding.  Paul's chains are a stark reminder that the battle has begun.
Below is an illustration of the text of Ephesians 6:10-20.  It can be divided into three sub-sections:
vv. 10-13 – the admonition to put on the armor of God and the reason why
vv. 14-17 – the armor of God which is actually the spiritual garment put on during baptism is enumerated
vv. 18-20 – the admonition to prayer, for all the saints (that is, the Church) and especially for Paul, that he may continue to proclaim the gospel.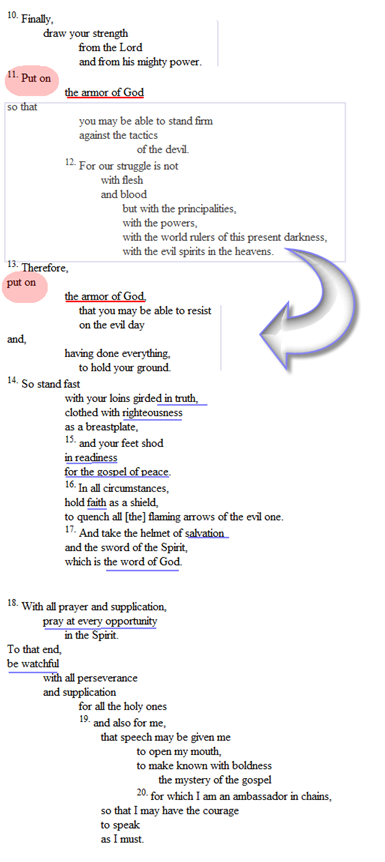 Popularity: 8% [?]