Home » Daily Gospel, Daily Readings
And He Sent Another Seventy-Two
Reading I:

2 Timothy 4:10-17

Resp. Psalm:

Psalm 145:10-11,17-18

Gospel Reading:

Luke 10:1-9
Luke 10:1-24 is anticipated in 9:52 by the messengers ( aggelouV) that Jesus sends ahead of him to Jerusalem. The unit narrates the creation of a group of seventy-two disciples whom Jesus commissions to go on ahead of him in places he will pass through. Only Luke narrates of the "seventy-two"; in the LXX, it is the number of the nations found in Gen. 10 and is symbolic of the "catholicity" of the Christian missions. 1
The outline of narrative can be presented as follows:
1 Introduction: The Seventy-Two
2-16: The Mandate
      2: Introduction: Sent out to Harvest
     3-4 Overall Guidelines: Lambs, Travelling Light, Going in Haste
Specific Guidelines
     5-7 Entering a House
     8-9 Entering a Village
     10-12 Rite of Rejection
13-15 Woes to the towns that rejected the Gospel
16 Whoever listes to you listens to ME…
17-24 The Return of the Seventy-Two
     17 The Report
      18-20: Jesus' Response
     21-22: Jesus' Thanksgiving
     23-24: Jesus' Blessing (Conclusion of the Unit)
In the liturgy of the 14th Sunday of OT (Year C), some of the verses in this section are omitted.  Below is an illustration of how this Lucan unit has been abbreviated.  The omitted verses are colored by a bluish hue.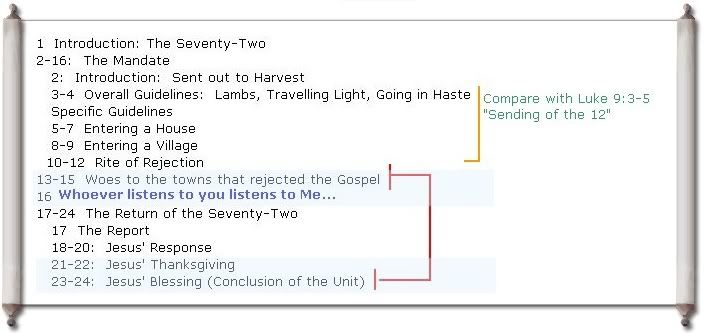 It is to be immediately noted that verse 16 while constituting the conclusion of the mandate of Jesus is also the center-piece of the whole narrative. It is framed by the contrasting-parallel of woes and blessings in vv. 13-15 and vv. 23-24 respectively. The saying is also a strong declaration on the identity of Jesus and his missionaries:
"He who hears you hears me,
and he who rejects you rejects me,
and he who rejects me
rejects him who sent me."
The statement has a strong parallel in John 12:44-45 and 13:20:
And Jesus cried out and said,
"He who believes in me, believes not in me but in him who sent me.
And he who sees me sees him who sent me. (John 12:44-45)

Truly, truly, I say to you,
he who receives any one whom I send receives me;
and he who receives me receives him who sent me (John 13:20)
Popularity: 9% [?]
Today is the memorial of St. Luke the Evangelist.  The Church associates the text of the seventy-two to his feast because in the Church's understanding, St. Luke was one of these, as are the catechists who promote the tradition of the apostles. [↩]