Home » Announcements
I Am Back!
I just came back from our group's yearly retreat. This time it was held in the new Spirituality Center being constructed at ToloTolo, Concepcion, Cebu. The retreat was handled by Fr. Robert Dueweke, OSA of the Chicago Province.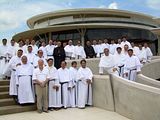 The retreat lasted from September 22-26. During those days we tried to enter into the spirit of the recently held General Chapter of the Order. Fr. Dueweke's role was to help us appropriate the guidelines made from the decisions of the General Chapter and see ourselves, not only as a Province but as individual friars, within a movement that would affect the Augustinians in the Asia-Pacific Region during these coming years. The general tenor of the retreat was hope-filled and perhaps it would generate more discussions and discernment in our own small communities in the days to come.
The retreat days were characterized by conferences and activities. The activities were actually exercises that kept us focused on the ideas expressed during the conferences. There was even a meditation session in the spirit of John Main and Lawrence Freedman (you know, that "Maranatha-thing" I used to do with the students in Guadalupe). In the evenings, there were rituals that reminded us of our baptism. We ended up each day's sessions with socials.
The place wasn't all that bad considering the constructions that are still going on. The one thing that bothers me is that the lodging places was built on a small scale. What would happen I wonder if people used to bigger sized facilities would come and make use of the place? It should have been made on an "international" scale. And then there is also the problem with bad acoustics. I was told that the room where we held our conferences was not really meant for discussions. There was still one larger aula that could have served the purpose, but it wasn't finished yet. I guess, some things can still be done with the buildings.
More pictures are available at the Gallery of the friars and the Spirituality Center and its environs.
Popularity: 5% [?]